Steph Casey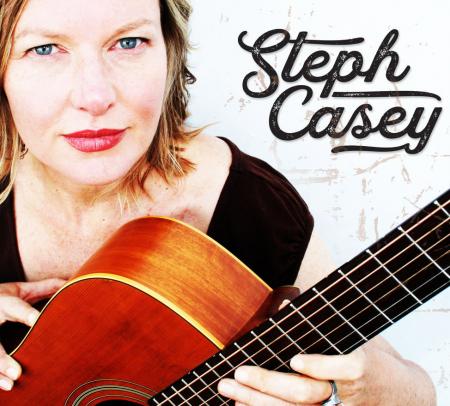 Steph Casey is a singer-songwriter from Wellington, New Zealand, who released her debut album "Whisper & Holler", in 2013. The album hit number four on the NZ Independent Musician (NZIM) Album Charts and number eight on the NZ Album Charts. The record received glowing international reviews and won accolades in the 2013 UK Songwriting Contest, in which three songs were semifinalists and the remaining nine songs were awarded Commended Entry.
STYLE
Casey's songs are a mix of Contemporary Folk and Americana.
RECORDINGS
• Two track EP, December 2010, recorded at The Surgery studio, Wellington, New Zealand.
• Thirteen track album recorded at The Surgery studio, released 2013. Distributed by Rhythmethod, available on all digital platforms and in stores nationwide.
AWARDS
In 2013 three of Casey's songs from the album Whisper & Holler were awarded Semi-finalist places in the UK Songwriting Contest (UKSC), and the remaining nine songs achieved Commended Entry. The UKSC judges are Grammy, Emmy, CMA and BRIT Award winning Gold and Platinum Album producers and artists. They include Sting's producer and musical director Kipper Eldridge, top UK producer Stuart Epps (Elton John, Paul Weller, George Harrison, Led Zeppelin, Oasis) and BRIT Award winning producer, songwriter and musical director Simon Ellis (S Club 7, Britney Spears). More than 7000 entries are submitted every year.
Casey also won the People's Choice Award at the 2013 WELLYFEST festival, The Wellington region's largest acoustic music festival.
ONLINE FANBASE
Soundcloud: Casey has a strong international following on soundcloud.com where her songs have had over 300,000 plays, and she has over 7,000 followers.
Reviews for Whisper & Holler:
Steph Casey's luminous debut
Steph Casey is a Wellington, New Zealand-based singer/songwriter, though one quickly hears that her muses have spent considerable time across the pond in the United States. Among the influences she cites-and which you'll hear on her debut record-are Gillian Welch, The Be Good Tanyas, and Lucinda Williams. Voice-wise, her dulcet tones resemble those of Joy Williams of The Civil Wars, another inspiration.
Casey offers a mix of emotions and themes. She opens with "Nice to Almost Know You" a sticks-in-your-head song that highlights the infectious catch in her voice. It's also the first of three songs of loss, the second of which, "My Lovely Letterbox," is a duet with veteran New York City hard rocker Gary Sunshine. She teams with him again on "A Love to Stay in For," though it is her voice that's the effulgent contrast to Sunshine's gravely tones. As that song's title suggests, there is plenty of upbeat material to balance the sorrowful. One of my favorites is "Thievery," a no-punches-pulled song of longing. Another is "Heavy Warm Heart," an off-kilter little number heavy on the first beats, in which Casey lets her light voice bounce off and between picked acoustic guitar notes whilst viola and cello add sonorous depth. Add some splashes of soul (the Hammond-enhanced "No Love") and a carefree beach song about one of my favorite places, "Kapiti," and it all adds up to later-in-life promise. This is a solid debut, no matter how long it took to arrive
- ROB WEIR
Rob Weir has for 20 years has been a principal music writer for SingOut! Magazine, the USA's oldest folk music publication.
The best moments of singer/songwriter Steph Casey's Whisper and Holler fall on the "whisper" side of that equation: when Casey's songs are stripped down to sparse acoustic guitar and voice, her work shines. "Heavy Warm Heart" and the title track are lent an immediacy by their simplicity, as it feels like Casey had the melodies burning a hole in her pocket and just had to get them out there. The delicate guitar work and engaging vocal tone mesh beautifully, creating magic ...(these) tunes fall right in line with the ethos that characterizes the highlights: take one thing and do it well.
- INDEPENDENT CLAUSES, USA
It is often said that too much praise in the introduction of an album review is unwise. However, after listening numerous times to the indie-folk album "Whisper & Holler" I have become somewhat addicted and under the spell of the startling debut of Steph Casey, and ask myself under which New Zealand stone has she kept herself hidden until now. Those who are familiar with the music of Lucinda Williams, Gillian Welch and Over the Rhine will immediately be comfortable with this vocalist, with her ingenious and emotional songs full of love and pain, as the central focus. Casey's soulful opening number Nice To Almost Know You begins with a lone acoustic guitar which is then complimented by her voice, and gradually builds to a full sound with the whole band, yet retains its grass-roots raw feel. This is in fact the case for the whole album: strong builds - modest and unforced. This is music at the highest level. An album of thirteen original tracks which after a few listens will make you feel at home wherever you may be.
- ALT COUNTRY FORUM
I love how even in her higher range, her voice still contains a breathy abandonment, allowing for a feeling of effortlessness to seep through her music in a beautiful way. She delivers unique, heart-touching songs in all 13 tracks and never fakes it, or plays it up to be something it's not; it leaves her very vulnerable. I think it's paid off. For someone who has placed as a semi-finalist in the UK Songwriting Contest in which more than 7,000 entries are submitted every year, the humbleness that Steph demonstrates is a lesson to us all. The release of 'Whisper & Holler' is yet another accomplishment she should be very proud of.
- GLOBAL MUSICIANS FISH POND
But Casey casts her net wider than her home shores and the album features collaborations with American singer-songwriter Gary Sunshine, formerly guitarist and songwriter for NYC hard rock band Circus of Power. The interplay of the rough and the smooth creates something special on their two tracks together - My Lovely Letterbox and A Love to Stay in For. Other highlights, often inspired by the ups and downs of falling in love, include the brilliant title track, a charmingly reflective Nice To Almost Know You (plus an alternative version to round off the album), Streets Round My Home (the world needs more whistling), and Kapiti - as warm and summery as a day at the beach.
- NEW CLASSICS

Visit our website: www.stephcasey.com