Lucifer Gunne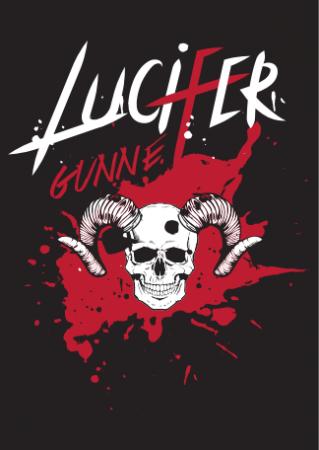 LUCIFER GUNNE throw down a frenetic and hard-hitting statement of intent with new single, 'ENERGENETIC'
For Wellington rockers Lucifer Gunne, the journey toward their chest-punching new single 'ENERGENETIC' has been one of evolution and growth. The four piece bring a diverse list of musical influences to the table in establishing a sound all of their own, one that has been elevating them as one's to watch! In what is looking to be an exciting year for the up and coming band, Energenetic is the 1st single off the forthcoming album, due for release later this year.
With 'Energenetic', the listener is confronted with a chaotic combination of furious guitars and rhythmic progressions. Lead vocalist Rory McDonald injects spit and grit on the track, with a vocal quality invoking the energy of artists including Mike Patton and Marilyn Manson, the latter being an inspiration for the band's name. Channelling emotion into the lyrics, ultimately matching the rage and passion of the music, is an element of Lucifer Gunne's flourishing artistry that has attracted many fans - 'Energenetic' is a perfect example of this talent operating at full pelt.
Recorded at Elysian Sound Studios in Wellington, 'Energenetic' pulsates with precision - a single that brings together hard-rock with punk and even some underlying pop melodies. "This single was so much fun to record. It's packed with energy and is the start of a new era for the band. "Energenetic" has way more power and feeling than anything we have released prior, and I can't wait to share it with the world!" Lucifer Gunne
Formed in 2017, when former bandmates, Rory McDonald (Vocalist, Bassist) and Don MacKenzie (Guitarist), bumped into each other 5 years later in a crowd of a thousand Pixies fans. Since then the Lucifer Gunne sound has developed consistently through single releases and a flurry of shows in New Zealand that was quick to capture the attention of local industry and music fans alike. While the harder, punk leaning influences of their new music indicates a tougher edge to the band's body of work, Lucifer Gunne's influences have ranged from the British indie wave that saw bands like Arctic Monkeys and Radiohead reign supreme. On their 2018 single 'HRM', the band demonstrated more versatility with their sound, exploring more psych-tinged territory a la King Gizzard and The Lizard Wizard and Psychedelic Porn Crumpets. With such a sonic palette forming their creative path forward, new music on the horizon from Lucifer Gunne promises to be charged with excitement and buzzing potential in the mix.
A young band renowned for packing a punch with electrifying, fun shows, Lucifer Gunne poured the essence of their live shows into the 'Energenetic' music video, directed by Stephen Press. "We really just wanted to create a little slice of chaos in this music video, something that encapsulates the songs frantic feeling throughout. We had a lot of fun coming up with the storyboard and recording it, and we hope it shows!" Lucifer Gunne
PRAISE FOR LUCIFER GUNNE
"From the outset, your ears are greeted to a clean and very upbeat funky guitar that plucks along to a rolling drum beat; it sounds good and it lifts your spirits."
muzic.net.nz
"With vocals that are, on occasion, not dissimilar to Placebo's Brian Molko, and consistently bitter lyrics, it is evident that Lucifer Gunne has all of the fundamentals required to go on to be a successful rock act."
Elsewhere
Lucifer Gunne may be a new name to many, but with new music on the way in 2019, the band is going to be ensuring theirs is a permanent name on radars yet. Bristling with attitude and delivered with prowess, 'Energenetic' is the first of a series of new music from Lucifer Gunne to not only introduce them, but also leave an impact.
Lucifer Gunne - Energenetic - Released - March 15th 2019
For media enquiries and more information contact:
Tony McDonald | [email protected] | 021 130 9620

Visit our website: www.lucifergunne.com