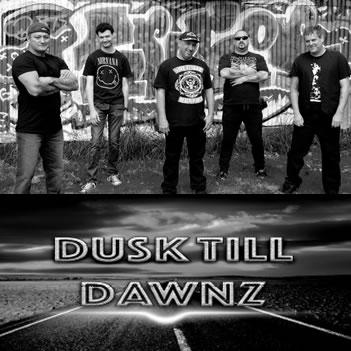 Dusk Till Dawnz is an originals rock band based In Palmerston North, which has a diverse repertoire which can reach out to the younger audience's to the older rockers as well.
Dusk Till Dawnz was formed by Jayson Harris & Steve Whittaker alongside the youngster of the group, rubix cube master William Jestin-Palmer. Guitarist Jason Waitokia joined & then vocalist Mark (Swampy) came into the mix after a brief set back due to receiving a heart transplant, recipient # 281;. Both Steve & Swampy have worked together in a previous band.
Mark (Swampy) - Vocals, Jayson Harris- Drums, William - Bass, Jason Waitokia - Guitar, Steve Whittaker - Guitar and vocals.
Dusk Till Dawnz has 3 songs on iTunes, Spotify etc. Through Lost by Design records, currently 2 more originals are in the process of getting mixed.
Dusk Till Dawnz is starting to get a number of shows under their belt around the Palmy region as well as a stint down in the Hutt with the Jef Minus Band.